VIETNAM - Mid Years
JUNE 1969 - SEPT 1969
The next major operation for 1/61 was William's Glade, a search and clear operation performed from Quang Tri Combat Base (LZ Sharon) with a mission of securing rice harvests in the area. Fire support came from the US New Jersey and close air support from Thailand.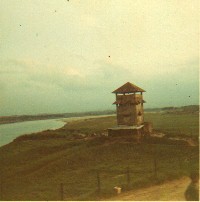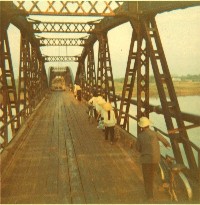 (Left) Old Watch Tower Left Over From the French.
(Right) Highway 1 Bridge Outside Quang Tri City. "If only this bridge could talk." Japanese, French, Viet Minh, RVN, US and VC soldiers have all used this bridge.


In July the first year in country was complete and so was the one year tour of the "Old Timers". Most went home. New faces everywhere but the same old game. The "Newbe's" that   survived would soon be the "Old Timers". And new or old, a warped type of mordant "Sick Humor" had developed. This humor displayed the feelings of soldiers from the Delta to the DMZ. It was an acknowledgment of the dangers of everyday life in Vietnam.
During this period an Air Force Detachment was stationed at Dong Ha to control close air support . Flying OV-10s and using the call sign "Barky" they were a familiar sight over the BN. Even closer air support was provided by AH-1 Cobra helicopters from the 101st Airmobile Division. The 101st also provided UH-1 Huey slicks and Command and Control birds. While the "C & C" birds often meant trouble the "Slicks" were a welcome sight. Not only did they provide emergency med evac, they brought much needed re-supply. Ammo, water, mail and food.
Operating from LZ Sharon the BN continued ambushes and patrols to protect Quang Tri City. Contact was light and men and equipment got some well deserved rest after their time in the west.
It was also during this period that a new capability was added to the BN. Highly trained snipers were attached to the various rifle companies.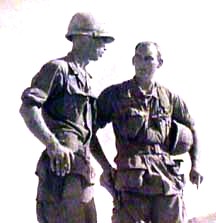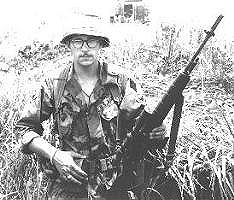 (Left) A and C Company Commanders Gallagher and Starr discuss Fire Support Plans.
(Right) SP4 Otto Majer, B CO, is one of the first newly trained snipers in 1/61. Later in his tour he would be awarded the Bronze Star with V for singlehandedly eliminating an NVA mortar crew that was firing on C Company.